Zero Waste Living by Celine Jennison
Steps to reducing our footprints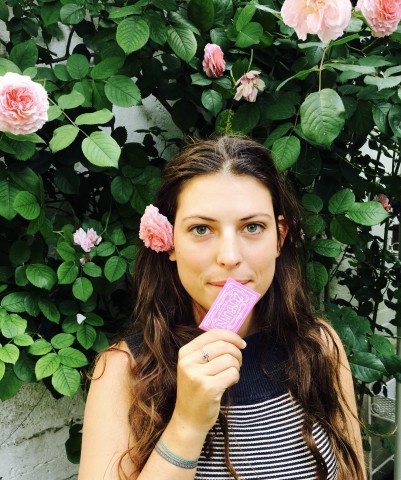 I try not to think about it too often because I lose my mind when I do. All the plastic that we accumulate, and how it is an assault on our earth and seas. Recently on an airline flight I noticed how the attendants would just give everyone a new plastic cup for every glass of water or beverage being poured. I kept imagining the hundred or so cups on my flight multiplied by all the other flights that were using plastic cups. Where were they all going? Land fills? Oceans? It just doesn't make sense how we can be so irresponsible with the way consume products and plastic. One way to alleviate my anxiety on this matter has been to try to eliminate plastic in my home. Some ways to do that are:
Create your own home cleaning products.
 Create your own reusable travel kits.
Take your own coffee mug to your coffee spot get your morning brew.
Create your own

 

grooming products and store them in glass jars.
Another way to ease my worry on this is being around bright spirits like Celine Jennison a zero waste voyager, who is making it her life's work to bring awareness on this matter. I spent a magical day with Celine and her boyfriend Christian discussing ways in which we can lessen our plastic usage. We also took a look at her amazing plastic free first aid kit and made a fire cider to boost our immune systems.
"Zero Waste living is a lifestyle that is rich in experiences rather than things, a life that is based on doing and being rather than having" – Bea Johnson
Celine and Christian are giving me some hope about the future. Being around them, and seeing their passion and the way they see the world is inspiring me. Their love of the natural world and their ingenuous ways of trying to support their mission is what the landscape of the future can be. They are combining their vast intellectual knowledge with their soulful connection to what really matters.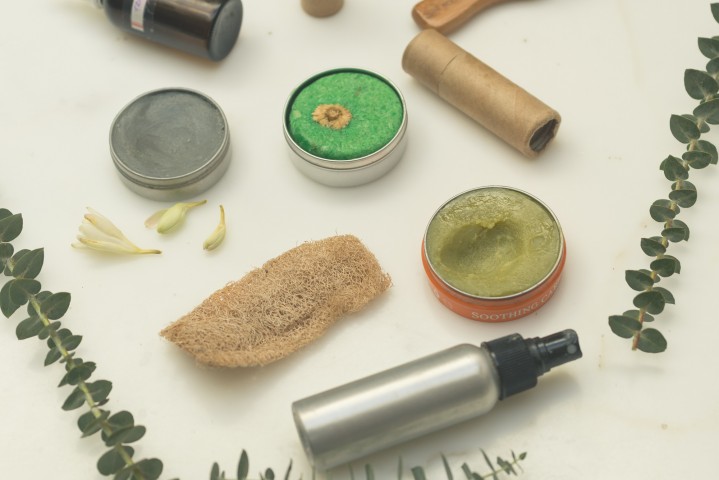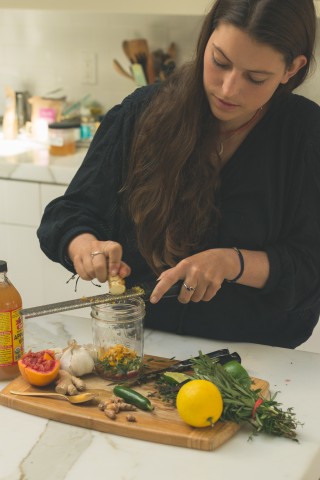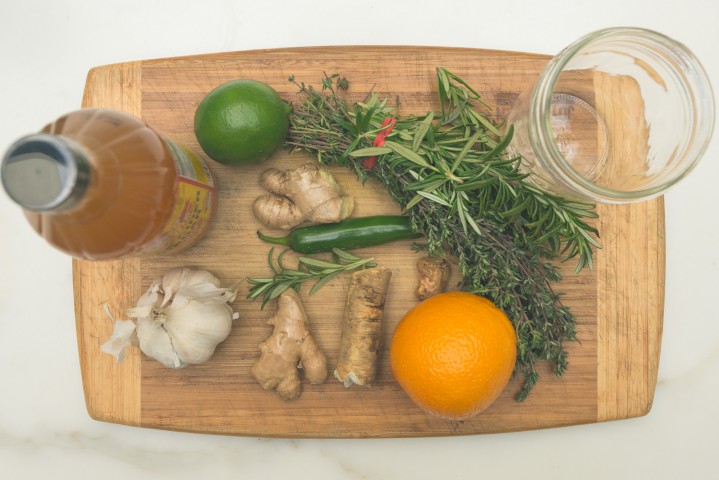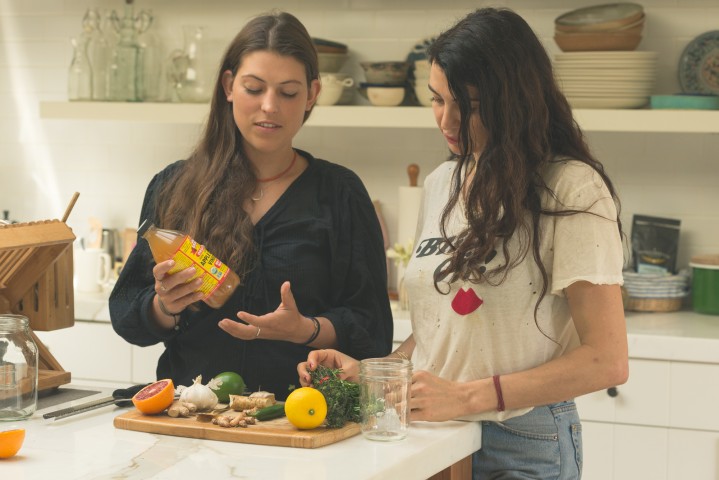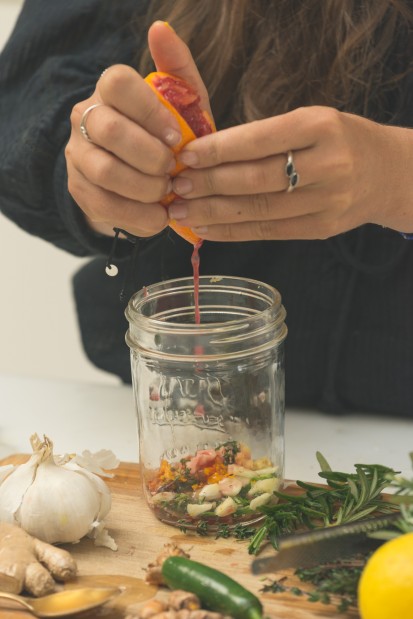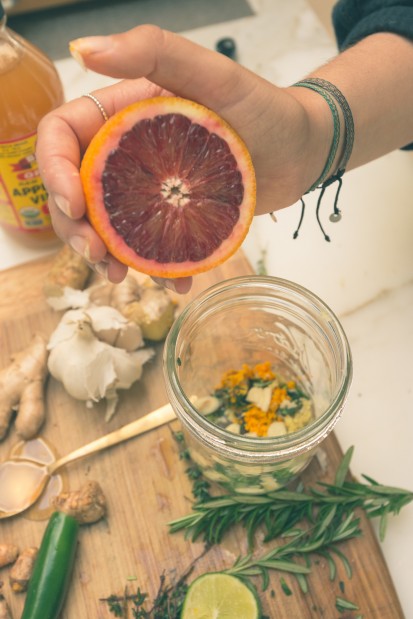 1) What makes your heart sing?
I have a very good olfactory sense and my heart sings when I smell something that takes me back to a childhood memory: the smell of a smoky campfire, the smell of seaweed on the beach, the smell of pine needles … or smells that I can't quite describe !
2) What was the pivotal moment that made you become an advocate for zero waste living?
Paddling in the Sargasso Sea around the Island of Bermuda on Plastic Tides' first expedition was the pivotal moment for me. As I paddled around the island I saw plastic bags, large crates, fishing lines … all tangled in Sargassum seaweed that the turtles and fish feed on.
The juxtaposition of Bermuda's amazing reef and marine life with plastic pollution from the North Atlantic Gyre (garbage patch) was a devastating sight. While I've always lugged a thermos around with me to save money on coffee and I've always brought my tote with me to go shopping as a habit, the Sargasso Sea expedition has energised me to take zero waste living to the next level, and more importantly, to focus on kids' education.
3) What are three easy things one can do in their life to help eliminate waste?
Besides the obvious : recycle and bring your own re-useables (bags, mugs, water bottles…) wherever you go, here are three easy steps towards zero waste living:
A. Ask yourself 'do I really need this? when buying something
B. Check out your local thrift store – you might be surprised with what you find
C. Always say 'no straw please'
4) Do you see things shifting in a positive direction with the younger generations?
Absolutely ! I see a lot of potential with the younger generations and we have great results with Plastic Tides when we work with kids. But we need to keep inspiring younger generations to take action because they aren't always stimulated in the right way by the role models that are readily available in society.
5) You and Christian travel so much, where is your most favorite place?
Oh that's impossible to pick, Shiva! I love Ithaca (Upstate New York) because that's where Christian and I met at Cornell and because there is a great sense of community in Ithaca. I love the Big Island of Hawaii, where I was fortunate enough to spend six month doing my Master's research. Hawaii has an energy that you can't describe with words. Finally, I feel at home in Chamonix, in the French Alps where I've spent my whole life skiing, mountaineering, rock climbing and picking wild berries!
6) Do you have a mantra or motto you live by?
I try to think like an ecosystem. I try to look at the world from a systems thinking perspective: where everything is interconnected, like the mycelial network of a forest – cellular networks across thousands of acres intermingling for mutual support. This means seeking balance in everything I do. In agriculture, systems thinking allows sharing of energy to make a system self-maintaining, self-organizing and self-renewing. On the Zero Waste Voyage, this means thinking more about the life-cycle of my food, my clothing and my belongings: how did this fruit get to my plate ? How was this shirt dyed red ? Will this object really make me happier if I buy it ?
"We are part of the web of life" Fritjof Capra
7) What is the first thing you do when you arrive to a new country or city?
I find the farmers' market !
8) Are you a mermaid or forest fairy?
Being a windsurfer, sailor, kiteboarder, surfer, sea urchin collector and a seaweed enthusiast I'd say I'm more of a mermaid. But I love the forest nonetheless – I love skiing down a line of trees in the forest, picking wild sorrel and chanterelles and smudging my lips pink with foraged raspberries !
9) Why do you like the fire cider remedy?
I love the fire cider remedy because of how easy it is to make and its multi-functionality. In this recipe, food is also medicine and you can use the fire cider to clear a sore throat, boost your immune system or energise you in the morning!
10) Do you have a daily practice?
I take a moment every day to stretch and breathe consciously – I open my arms out to the sky and take a deep inhalation followed by a long exhalation where my arms flow down to touch the earth.
Recipe for Fire Cider
INGREDIENTS
– organic apple cider vinegar (I love to use Braggs)
– 3-4 cloves of peeled garlic
– 1 inch horseradish
– 2 inches of ginger
– 2 inches of turmeric
-1 handful of rosemary and thyme
– 1 orange
– 1 lemon
– 1 jalapeno pepper
– 2 tablespoons of honey
RECIPE
Grate the horseradish, ginger and turmeric into a quart-sized mason jar, add the chopped herbs (stems too!) and minced garlic. Squeeze the orange and the lemon juice inside. Chop the jalapeno pepper and add it into the jar. Finally, use a spoon to add the honey in at the end.
Pour the apple cider vinegar into the mason jar and stir it to make sure there are no air bubbles. If using a metal lid, use a piece of parchment paper underneath to avoid corrosion. Close the lid so that it is tight. Let the mason jar sit in a cupboard for 3-4 weeks.
When the cider is ready strain the roots and veggies with a cheesecloth or a sieve and place the liquid in a new mason jar. Store the fire cider in the fridge for up to one year and add honey to taste. You can now enjoy this elixir all winter long !
DIRECTIONS
Take 3 tablespoons daily when you feel flu symptoms coming or when you are already ill. As a preventative measure, take 1 tablespoon daily. Fire cider makes a great addition to salad dressing.
Note: either place the strained roots and veggies in the compost pile or use them in another dish !